Yes. That title you just read is correct. Kwik Trip, the national chain of convenience stores which is largely famous for their low priced milk, eggs, and butter, is looking to add a NINTH location in the Twin Ports. But wait. There currently aren't ANY Kwik Trip locations in the area. Yes. You once again would be correct. That's because Kwik Trip has begun on construction on the first of eight new locations in the area. All will open in the next year. But why stop there? Well, Kwik Trip isn't going to... so that question really doesn't need to be asked. They hope to have as many as 15 locations in the area within the next few weeks. The Northland soon will be a conquered land of Kwik Trip locations.
The ninth location is planned for the corner of Central Entrance and Arlington Avenue. That site currently houses a recently shuttered ICO Station. But the former ICO site really isn't large enough for the new Kwik Trip prototype. With that being said, the company is approaching the city of Duluth and asking for approval of two things. The first is the rezoning of blocks 17-24 which like directly next to the ICO site. Currently three of the blocks are owned by McWeb Corporation, while the other two have homes and are owned by city residents. Kwik Trip is looking to have these sites rezoned from R-1 Residential to MU-C (multi-use commercial). The second thing Kwik Trip needs to have happen in order to make this ninth location a reality, is the vacation of the alley way that currently separates the ICO site from blocks 17-24. The vacation of this alley would result in a new alleyway being constructed next to the Kwik Trip site that would run mid-block from the end of the currently alleyway, then run along the edge of the Kwik Trip site and connect at Palm Street.
There shouldn't be much opposition on this one. Kwik Trip already has letters of support from each of the property owners, along with support from surrounding businesses'. If all goes according to plan, construction on the new location could begin as soon as the end of this summer or early fall. Now.... lets figure out out where Kwik Trip locations 10-15 will be.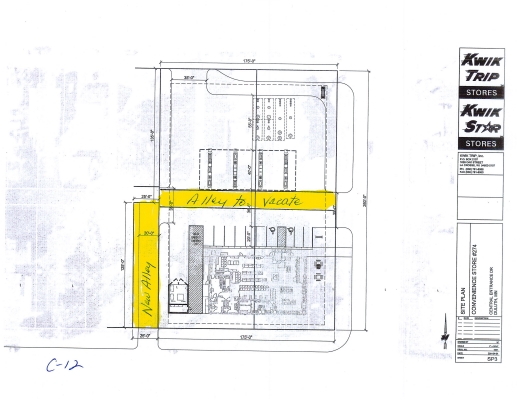 Our View
IT'S A KWIK TRIP FRENZY!!! But, we support it. Why? Some will complain from the very start that Kwik Trip is just another chain and that it is destroying our local business'... but let's be honest? How many local gas stations exist in this area? Unfortunately ICO was the only local one and that location, along with almost all the other locations, shuttered within the past year. Now we have a run down site sitting vacant that honestly is becoming an eyesore for the area. In comes Kwik Trip who swoops in, grabs up the site, and redevelops it. It's hard for people to really imagine what Kwik Trip is like as a company, let alone their store locations, as most have really never been to one before. Let us tell you first and foremost, their store locations are beautiful and the work they do on redeveloping sites is wonderful. Ask any resident from the midwest who lives near a Kwik Trip and we highly doubt you'll hear anything negative. This ninth location on the corner of Central Entrance and Arlington Avenue will not only clean-up and refresh the site and area, but it also will drive business. After all, having a convenience store that has the essentials of a marketplace for low prices is never a bad thing for a community...and in the world of gas stations, a little competition never hurt anyone.